We offer full service video production for small & large businesses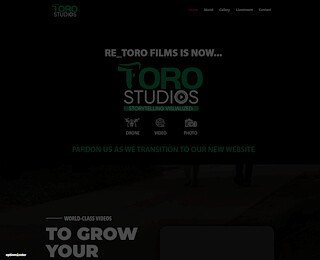 As the best film production company in Texas, ReToro Films has a pretty big reputation to live up to. Look no further than our portfolio for the video services you're searching for, from drone videography and aerial event coverage to YouTube channel management and live broadcasting for your Webinar- call us first for the best results.
Best Film Production Company In Texas
Related Post
Re-Toro Films is a full-service video production company. We are experts in Video Production, Video Marketing, Drone Videography, Time Lapse Videography, and so forth. Our trusted experts have the tools and resources to build a library of video content to help keep your business with current issues in your niche. Our ability to deliver excellent and unparalleled services makes us the best videographer in The Woodlands Texas.
What Is The Role Of A Videographer?
The role of a videographer cuts across a wide range of tasks involved in recording live events and small scale video production. He/she focuses on small productions like weddings, birthday parties, documentaries, as well as commercial and training videos for companies and corporate bodies. Unlike cinematographers, they are not specialists in filming movies, though they can take part in the production of short films. Some of the specific roles of a videographer are as follows:
Works with other production staff in pre-production, planning, and actual production
Works as part of the production team by directing multi-camera studio equipment and video switching, as well as generating and inserting on-screen text and graphics in live productions using cameras, DVRs, switching equipment, and edit controller
Controls the lighting in any shooting environment; prepares secondary footage for use in live productions; adjusts the studio mics; and use audio mixing equipment.
Maintains the video production equipment used in the field as well as in the studio
Becomes part of the post-production team, reviewing the footage that was shot; eliminating some irrelevant or poorly recorded segments and scenes; working with graphics and special effects to get the final product ready
Performs any other function expected of a camera operator and video editor.
How Much Does It Cost To Hire A Videographer?
The average cost of hiring a videographer will depend on a number of factors. The most significant factors include the number of hours of raw footage, the final length of the video, the location, the size of the crew required to handle the project.
Also, the cost will depend on the amount of editing and retouching needed, and other additional services you may need. There are some videographers that charge by the hour for their services. The type of event you want the videographer to cover can also affect how much you will have to pay.
Covering a wedding ceremony, for instance, is quite different from covering such events as college graduation parties or kids' soccer tournament. The filming of commercial and training videos for companies is unique too. You may not know the actual cost of hiring a videographer until you consult one and explain the details of the event you want to be covered.
Contact Us Today!
If you want the best videographer in The Woodlands Texas to handle your next project, contact us today at Re-Toro Films. Our services are affordable, detailed, and highly professional. Our experts will be available to discuss your need. We will offer you the ideal videography solution that suit your budget and needs. With us, you are guaranteed to get excellent services that give 100% client satisfaction.
The potency of drones is powerful in photoshoots and videography. These playful gadgets have become the talk of technology since their launch. Previously, drones were a highly prized possession for high-level organizations such as the military. Their release and fame in the civil society opened a myriad of possibilities. They are a common sight in Hollywood gatherings as well as our backyards.
Re_Toro Films is an establishment of the talented visual artist Ricky. He has an excellent work history with clients such as Cougar Sales, Evansans Cooper, and Mitsubishi Heavy Industries Compressor International. The Best Videographer in Spring Texas understands that building a fruitful working relationship automatically translates into producing highly pixelated video projects that reflect the clients' persona and working motto. Ricky is a patient and highly perceptive professional who values the clients' creative projects and marketing goals.
Which projects will benefit from using drone videography?
Real Estate
Aerial videos depict an accurate size and shape of properties. Prospective buyers get an additional view of the environment's layout. Clients and builders can also contrast the paper plan to the actual construction site and monitor daily development. This footage heightens the properties' marketing points and increases the sales value.
Event coverage
The subtle flush of electricity at a party is apparent when one can capture the scope's entire infrastructure. The bird's eye view is perfect for outdoor events, massive musical concerts, and sporty events that may involve a lot of moving parts. A high definition aerial recording will compliment any attempts to impress a potential business sponsor with the event's performance.
Tourism
Resorts with massive lands will spike their bookings by advertising highly pixelated drone videos. The visual tour will entice visitors with the location of facilities and landscaping. The concept is also applicable in golf course resorts looking to give a panoramic view. The drones are not severely distracting while capturing videos of wildlife on land and sea.
Why you need to invest in our Best Videographer in Spring Texas
Before the invention of drones, clients would hire a licensed helicopter pilot and videographer for a quality aerial shoot. One was required to register the flight's plans with the local flight authorities to receive the necessary permits. Drones have cut back on the hustle of hiring the full helicopter crew in several ways.
Save money
The drones will allow you to get all the video shots in one day, hence saving both time and money in comparison to the marketing ROI. Choosing drones over pricey helicopters will but back on the marketing budget for equally high-quality shots.
Versatility
Drones can fly and hover a few feet above the ground as well as several feet higher. They can also shift back and forth as well as left and right for different angles. The autonomy will accentuate flattering angles for various projects.
High-quality videos
Our drones have remarkable results. We produce a gallery of high-quality videos for all your marketing requirements. Re_Toro films will create a buzz with the drones in both your events and online presence. Contact our customer care today to get a free quotation for your videography project.
Re_Toro Films
7135579040
4606 FM 1960 Rd W, Suite 400, Houston, TX 77069
View Larger Map
We welcome your comments!