We offer full service video production for small & large businesses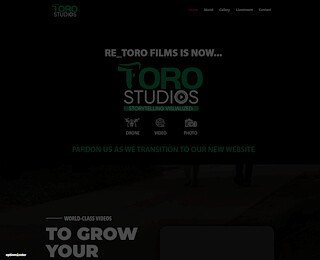 You need the services of the best videographer in Houston for promoting your business' products or services. ReToro Films offers a broad range of services to meet the needs of small and medium size businesses- everything from drone videography and event coverage to youtube channel management and live webinar broadcasting.
Best Videographer Houston
Related Post
Video marketing is one of the more popular mediums for marketing considering the popularity of social media. Since drones are able to get broader shots in high-definition, the usage of a drone videographer in Houston is quite popular among local businesses.
Why does my company need a drone videographer?
If you have a business where you want to show off a property, large-scale operation or landscape from a bird's eye view, you need a way to get the camera up in the air. This is not an easy task yet it is becoming trendy to do so in advertisements or Youtube videos.
Drones are able to reach heights that would otherwise need a helicopter to achieve and conveniently does so with better cost efficiency and convenience. Hiring a drone videographer in Houston can show off your property, establishment or create clips for a commercial at a reasonable price.
After having an amazing video, you can use it for content marketing purposes or television commercials with a bit of editing. If you are going for local advertising, you can post it to local hashtags within Instagram, Youtube, Twitter, Facebook or influencer blogs. Your videographer may also help with editing to make your videos fit into the scope of your advertising campaign.
Live Stream Events
Live streams are a great way to promote your events, whether it's through your website or streaming platforms like Twitch or Youtube. Just having a few cameras around the property may be sufficient, but it isn't quite as engaging for a large event.
This is why the usage of drones to get live footage is now possible and some newer drone models will have connectivity to connect to your stream. A robust WiFi or data signal will be required, especially if you plan on streaming using HD resolution.
This can also cause buzz during your live events for people that are actually there. You can encourage members to tune into the drone cam and/or share the link with their friends or family.
Real Estate Showcasing
Real estate is quite a competitive field and it's about grabbing potential buyers' attention at all means possible. High definition photos, videos, and written descriptions are now industry standard, even for relatively low-priced properties.
By using a drone videographer in Houston, you will be able to capture large rural properties or homes in a way that few realtors could compete. Float above the roof, around the yard and capture the landscape as if the viewer were viewing it from a helicopter. Since many drone models have 4K video cameras, the video will be so crisp, potential buyers will know that you take your business seriously.
More than a cool hobby, drones are now powerful content creation tools for businesses at all levels. It is important that the drone operator is experienced enough to not crash your pricey drone, which is why it may be best to call in a professional. If you need high-quality footage for your business, give us a call to set up an appointment.
Video is a useful medium for marketing, entertainment, or training materials. By hiring one of the Houston top video production companies, you may create video material to be used for your company. Of course, you must have the budget set aside and a clear goal of why you need to create videos in the first place.
Hiring a Video Production Company
Video production has quite a loose definition and is just about producing digital films. Some Houston top video production companies will be dynamic, and some will have their specialties. Keep in mind the type of video you want to shoot when comparing portfolios.
For TV production, things have also switched to mostly digital mediums and will be edited on computers. Of course, your average editor that makes Youtube videos may not be the right choice for a television production. There is a wide range of skill sets found in the industry, and even high-end hardware is needed to render more advanced effects.
If you want to create testimonial videos or marketing content to be used on the internet, this is also a possibility with a professional video producer. This is the type of videos shared on your company's Twitter, Facebook, Instagram, and other social media profiles.
Creating Videos For Marketing
The creation of a video for your marketing campaign should consist of a planning phase (or pre-production), the shooting phase, and the editing phase. With all of your footage stored on a digital medium, this will be transferred to a computer where it can be reviewed and edited. Don't be surprised if a lot of footage is cut out to create a crisp end product.
One of the main consideration in the pre-production phase is how much you are going to spend. A simple, short video consisting of your employees for Instagram will be exceedingly cheap in comparison to a full commercial. Editing skills and modern camera equipment will still vary between companies, and minimum prices will reflect that.
A company that offers full-service production can handle all three phase but with a premium price. If you have a time-consuming business where every hour of your day is valuable, it is worth the additional expense by keeping it out of your hair.
Although a lot of large companies are getting away with far-out ideas that are vaguely tied into the product, a small business will need to create content that relevant. Sometimes, it is appropriate to be in the audiences face about the product you offer and why it's critical that they need it. This ultimately depends on the companies goals, but you need to be pragmatic about it.
A simple video product can be handled by just about anyone with a digital camera, but it isn't suited in the space of digital marketing. Not only is quality high in demand, but a professional can also steer your video idea in the right direction to increase sales. If you need video content to get more attention to your business, consider contacting us for a quote on our production services.
Re_Toro Films
7135579040
4606 FM 1960 Rd W, Suite 400, Houston, TX 77069
View Larger Map
We welcome your comments!