We offer full service video production for small & large businesses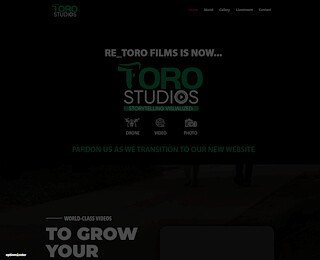 Re-Toro Films is a full-service video production company in Houston. We offer a wide range of services including Video Production, Video Marketing, and Event Coverage. We also provide Drone Videography, Time Lapse Videography, YouTube Channel Management, Live Webinar Broadcast, and so forth. We serve small and large businesses in Houston, Texas, and surrounding cities.
Our trusted experts have the tools and resources to build a library of video content that will give your business the needed advantage over your competitors. We are the ideal video production company in Houston that has what it takes to help grow business through the lens of story.
What Is A Video Production Company?
A video production company is a business that undertakes the production of video contents. The videos produced by the company may be its property or that of its clients. The company will work with different kinds of clients to produce all kinds of videos including films, documentaries, online branded contents, commercials, public relations videos, and others.
While there are several video production companies that focus on film production, there are several others that take up jobs from different clients like brands, associations, media outlets, national networks, non-profits, as well as private individuals that need any kind of video production.
A video production company normally has the right team of individuals with the technical skills to produce the different kinds of videos clients may want. The production team takes care of such aspect of video production like preproduction, video shooting, and post-production.
Most video production companies have all the equipment needed to produce the kinds of videos they handle. There are some that do not own all the things they need and work on project-by-project equipment rental model.
What Is The Difference Between A Film Studio And Production Company?
A film studio is different from a video production company though they are closely related. The major difference between the two is that while a film studio (also called movie studio) is a major entertainment company that has its own privately owned studio facility or facilities for the production of films.
However, a production company is an entity that is involved in the production of video contents that includes films and others like commercials and online branded contents. The major relationship between the two is that many production companies use the facilities of film studios to produce their contents. In the entertainment industry, for instance, there are lots of production companies that do not own film studio but rent spaces from other companies.
While there are several film studios that embark on production of films of their own, there are others that have never produced a motion picture of their own. Such independently owned studios only sell their studio space to production companies.
Need Video Production Company in Houston? Contact Us Today!
Contact us today at Re-Toro Films to know more about our services. We offer affordable and detailed services. Our trusted team will be available to speak with you and discuss the options available for your business. We guarantee you excellent services.
Re_Toro Films
7135579040
4606 FM 1960 Rd W, Suite 400, Houston, TX 77069
View Larger Map
We welcome your comments!