We offer full service video production for small & large businesses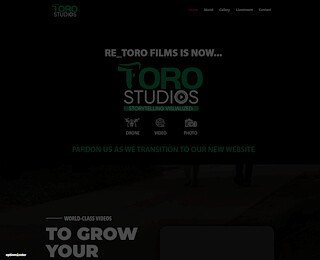 Re-Toro Films is a full-service video production company in Houston. We offer a wide range of services including Video Production, Video Marketing, and Event Coverage. We also provide Drone Videography, Time Lapse Videography, YouTube Channel Management, Live Webinar Broadcast, and so forth. We serve small and large businesses in Houston, Texas, and surrounding cities.
Our trusted experts have the tools and resources to build a library of video content that will give your business the needed advantage over your competitors. We are the ideal video production company in Houston that has what it takes to help grow business through the lens of story.
What Is A Video Production Company?
A video production company is a business that undertakes the production of video contents. The videos produced by the company may be its property or that of its clients. The company will work with different kinds of clients to produce all kinds of videos including films, documentaries, online branded contents, commercials, public relations videos, and others.
While there are several video production companies that focus on film production, there are several others that take up jobs from different clients like brands, associations, media outlets, national networks, non-profits, as well as private individuals that need any kind of video production.
A video production company normally has the right team of individuals with the technical skills to produce the different kinds of videos clients may want. The production team takes care of such aspect of video production like preproduction, video shooting, and post-production.
Most video production companies have all the equipment needed to produce the kinds of videos they handle. There are some that do not own all the things they need and work on project-by-project equipment rental model.
What Is The Difference Between A Film Studio And Production Company?
A film studio is different from a video production company though they are closely related. The major difference between the two is that while a film studio (also called movie studio) is a major entertainment company that has its own privately owned studio facility or facilities for the production of films.
However, a production company is an entity that is involved in the production of video contents that includes films and others like commercials and online branded contents. The major relationship between the two is that many production companies use the facilities of film studios to produce their contents. In the entertainment industry, for instance, there are lots of production companies that do not own film studio but rent spaces from other companies.
While there are several film studios that embark on production of films of their own, there are others that have never produced a motion picture of their own. Such independently owned studios only sell their studio space to production companies.
Need Video Production Company in Houston? Contact Us Today!
Contact us today at Re-Toro Films to know more about our services. We offer affordable and detailed services. Our trusted team will be available to speak with you and discuss the options available for your business. We guarantee you excellent services.
Video Production Company Houston
Related Post
Vidoe content is high in demand in the marketing world, especially if you plan on grabbing the attention of internet users. When hiring out a professional company for video production in Houston, you should have your budget and goals in mind before reaching out.
Producing Video Content
The idea of video production in Houston for your business is likely to be used with digital marketing. Since the whole world is on the Instagram & social media bandwagon, putting out addictive, viral content will be the best way to draw attention to your latest products.
Video content should be split into multiple stages, including a writing & planning stage, a filming stage, and an editing stage. The scope of your video needs to be quite clear, especially if you plan to use it in a time-sensitive marketing campaign.
Scripted videos are great, but there is always a place for more improvised acting depending on the situation. If marketing is the goal, simplicity is key within the content, and any call to action should be delivered smoothly. If your crew knows a better way of filming or implementing something in the video, have an open mind because you may create something more extravagant than you'd imagine.
Video Marketing
When considering a video marketing campaign, you need to have a target audience in mind. This could include a more in-depth analysis of demographics or simply the type of people you associate with from personal experience. This, in conjunction to which medium you will publish the video, should determine the direction of your video.
With video marketing on the internet, you have a very short window of opportunity to grab the users attention and guide them towards your product. One mistake that even larger brands make is to create drawn out or unrelated commercials that don't deliver the intention of the product.
Youtube is likely the biggest platform video advertising, whether it's through full videos or video advertisements. Within a paid advertisement via Adsense, you will have just a small clip to showcase your product. It also needs to be related to the keywords of videos you are targeting. Otherwise, users will skip or ignore the advertisement, possibly worsening your public image in the process.
Creating a full-length Youtube video is content marketing, which is similar to written content marketing. The idea is to create videos of value so that people will share them, rewatch them, and your product pitch is rather secondary. This is more of a long-term marketing approach, although it entirely depends on internet trends, luck, and the current state of the market.
Although not always common, video advertisements can also be created to be embedded on websites, often instead of banner advertisements. Instead of creating videos that catch users by surprise, consider paid placements in blogs or online communities that fit naturally. Those jump scare type of video advertisements often leaves a bad taste in the users' mouths.
Video advertising remains a key part of the marketing world, although it has mostly shifted towards the internet. With the younger generation being dependent on Youtube and Instagram, establishing an online presence on these platforms could assure the longevity of your brand. If you need help with professional video creation, give us a call for a consultation.
Re_Toro Films
7135579040
4606 FM 1960 Rd W, Suite 400, Houston, TX 77069
View Larger Map
We welcome your comments!